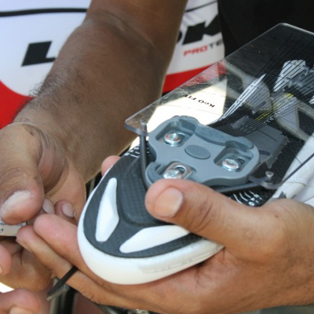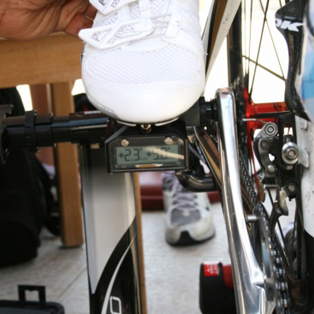 Look Keo Fit Cleat Alignment
Look has created a tool for setting up your Kéo Cleats for an optimum adjustment called the KÉO FIT. The system will help the cyclist choose the correct cleat that corresponds to their correct float based on the cyclists' pedalling anatomy. The cleats that are available are the red cleats 9º, the grey cleats 4.5º, and the black fixed cleats. The device determines the cyclists' natural pedalling style and foot position for the most efficient pedalling.
---
Step 1 : Shoe Preparation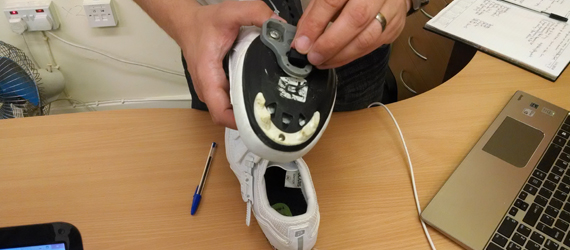 To prepare for a Look Kéo Fit Cleat Adjustment at Bike Fit Studio, we will take your cycling shoes and fit them with either Look Kéo Grey or Look Kéo Red Cleats. These cleats will then be positioned with the centre of the cleat on the head of the 3rd Metatarsal of your foot. We then apply a special magnet to your cycling shoe. From here we can begin the Look Kéo Fit Cleat Fitting, where the magnet is picked up by a specially built Look Kéo Pedal which indicates your float movement and amplitude.
Step 2 : Pedal and Cleat Measurement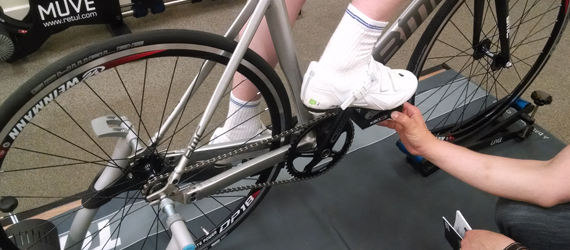 For the next step of your Look Kéo Fit Cleat Fitting, you will cycle on your own bike with the Kéo Fit Pedal System attached to your crankset. You will cycle under power loading on a turbo trainer for up to 3 minutes. While you are pedaling, the system will record your foot orientation position and foot amplitude. The test will then be repeated, and your average reading will be used to identify the correct adjustments for you.
Step 3 : Angular Adjustment of Cleats
After finishing your pedaling tests and we have recorded your values you will get off the bike and remove your shoes. We then remove the magnets from your cleats, and attach the angle finder plate to your shoes. We then begin to make the necessary adjustments to your cleats in order to attain the optimal pedaling stroke and position. This is done by loosening the screws on your cleats and turning the cleat to the optimum angle.
Step 4 : Final Check and Float Selection
Once the cleat fitting adjustments have been made, you will get back on the bike, and conduct another 3 minute pedaling test. This is to obtain your final reading with your new cleat setup. When your cleats have been adjusted correctly, your foot orientation position will be at a position between +/-1º. This indicates that your cleat is positioned correctly in respect to how your foot moves, and helps to reduce injury as a result of poor cleat positioning. Finally, we use foot amplitude as part of the Look Kéo Fit Cleat System to ensure you have the right type of cleat float to suit you and your riding style.