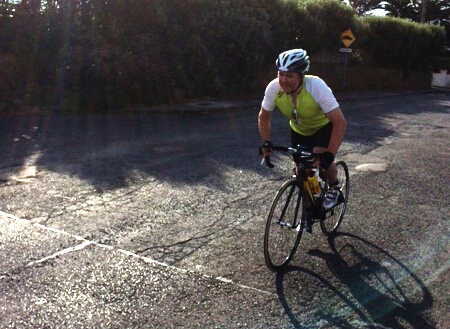 One of our most recent bike fitting sessions that we carried out at Bike Fit Studio here in Dublin was a really great one. We don't document every bike fitting that we carry out, but what we like to do is take the bike fitting that carries a specific challenge, and then document how it went and how it can benefit you.
This bike fitting was with a great cyclist called Keith Jack who was returning to the sport, and wanted to maximize the efficiency of his training by getting an optimal bike position by using Retül's Bike Fitting technology that we use here at Bike Fit Studio.
As always with our bike fitting, we went through the 6 bike fitting steps to providing our bike fitting service.
After we sat down with Keith and went through his history as a cyclist and his physcial assessment, we moved onto the initial capture of his bike fitting. This showed us what his current position is like and how his body type affects the way he sits on the bike – this is essential because every cyclist is different and so the same approach to bike fitting doesn't work for all cyclists. This is the reason we use Retül, because it analyzes in three dimensions, so we can analyse in real time what the effect of a saddle height change has on lateral knee movement.
After our initial assessment, we began making changes to Keith's bike fit and position, so that we could achieve the goals that Keith wanted, while also applying our scientific and data driven technique for optimizing his bike position for height, reach, saddle position, and lateral movement.
After going through the final steps, and taking feedback from Keith, we arrived at a position that felt good for Keith, and this position was optimized through a bike fitting that has made him more comfortable, improved his performance, and reduced pain and injury by reducing lateral movement.
We then presented Keith with his bike fit report, and this contained all of the data we collected during our fitting, and gives Keith the bike fitting data he needs for setting up all of his bikes for the ideal cycling position.
While finding a bike fit based on size is essential, the reason that Retül offers such a premium bike fit, is that it is constantly measuring your lateral movement and how it is affected by the vertical changes to your bike position.
Many bike fitting options will only measure you for height and angles based on a set template, but this is not the same for every body type. While a certain leg angle may be regarded as optimal for power output, it may be over extending your leg which causes increased movement in your hips and knees, which can lead to joint pain on longer rides.
While finding a bike fit based on size is essential, the reason that Retül offers such a premium bike fit, is that it is constantly measuring your lateral movement and how it is affected by the vertical changes to your bike position. This means that we find the ideal bike fit position for you that is not only comfortable for your body type, but reduces the chance of injury and pain from poor bike position.
All of these elements come into play in every bike fitting session that we conduct here in Ballyboughal, Co. Dublin. Keith came back to us after his Retül Bike Fitting with us, and wrote about his experiences during his bike fitting, and his performance after his bike fitting. Read about it below.
---
As a returning cyclist in my 40's and recovering from ill health I wanted to maximise my time training on the bike. I had done a lot of research into how best to position myself on the bike for maximum comfort. This led me to choose Retül over other methods due to the fluid method of adjusting your position in real time after analysis.
The bike fitting was professional with every step very well explained, the equipment was top line and there were no problems during the fitting. At the conclusion of the fitting every part of the bike was torqued up to the correct setting.
After the bike fitting, I went out to try out my new bike position. I had already set a marker on a route that I was familar with, it was an out and back with a small climb in the middle. Prior to the bikefit I rode 16.97km 40.29 minutes at an average speed 25.1kmph and after the fit I rode 17.7km 36.34 minutes at an average speed 29.1kmph. This for me is a great result and along with the improvement in time and speed the increased comfort in moving onto longer distances is the best investment I have made into myself.
---
Reading Keith's account of his bike fitting with us, shows some great bike fitting results and cycling performances. This is a case where the results are shown in the performance, as well as the comfort.
We're delighted to be able to show this to you, showing you how a good bike fit can improve performance as well as give you increased comfort.
If you're interested in having a bike fitting with us, you can contact us on 01 843 3712 or you can book online here: https://www.bikefitstudio.ie/book-an-appointment/